NATURBÜRO 1–7 (NATURE OFFICE 1–7)
loekenfranke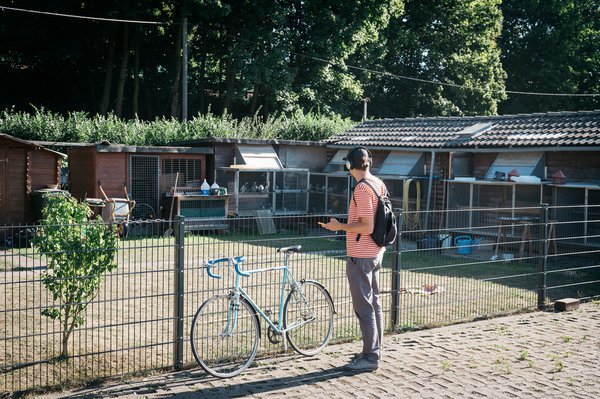 By Loekenfranke (Michael Loeken, Ulrike Franke)
Cooperation Leonard Putz
With voices of Uwe van Hoorn, Tanja van Hoorn, Andreas Gehrke, Johanna Romberg, Thomas Griesohn-Pflieger, Peter Stollfuss, Maria Vogt
Thanks to Uwe van Hoorn, Tanja van Hoorn

The cycle route leads through a range of different green belt sites, parks and wasteland. At seven points along the route loekenfranke have created so-called »Nature Offices«, where highly contrasting views of nature can be experienced. From the award-winning carrier pigeon to the life-saving canaries through to hawks and falcons, loekenfranke show birds as indicators of the state of our society.
Those who did not have their own bike could rent a bike at the respective start and end point. The route was marked with yellow or black arrows. The seven listening stations were numbered and marked with a QR code which activates a 5-7 min interview about the theme of birds.
Language of the routes: German and English