Altes zu neuem Leben erwecken (Bringing the old back to life )
Stefan Schneider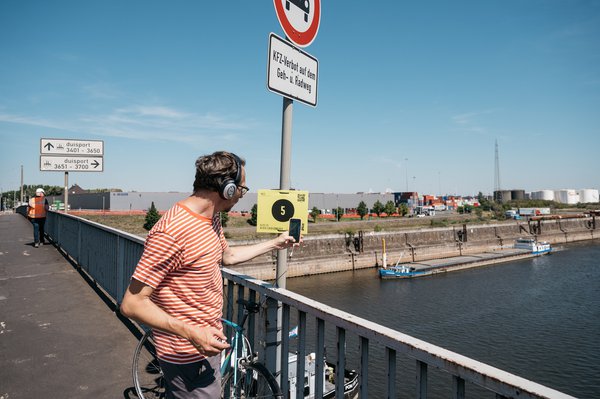 Direction and Speaker: Stefan Schneider
English Speaker: Nika Breithaupt
Translation: Ellen Rosenbaum
Many thanks to all the interlocutors in Kaßlerfeld, Ruhrort, Laar and Meiderich
Between the modernised inland harbour and the detached houses in Laar stand the ruins of the coal and steel industry and the location in Ruhrort for the first ever Tatort with Schimanski, filmed in 1981. Stefan Schneider invites you to take a cycle journey through a Duisburg that lies in between and makes it audible by listening to short conversations at selected places. How do the people see their future and that of the region?
Those who did not have their own bike could rent a rental bike at the respective start and end point. The route was marked with yellow or black arrows. The 17 listening stations are numbered and marked with a QR code which activated an interview about the area and then started a specific sound track for continuing the tour.
Language of the routes: German and English
The tracks of this compilation of instrumentals were chosen as they all seem to carry a sense of curiosity, transport and moving. Almost like a soundtrack of a road movie when a travelling character is on a journey of discovery, the music here accompanies the visitors along their routes through various parts of Duisburg. Among the individual songs you will find a number of detailed connections to certain people and places who will come across on the journey. For example: Indian Pop Music from the 60's at Asiartis Shop (Stop4) , turkish Hip-Hop at the Primary School in Duisburg Meiderich (Stop 14), Heavy Metal guitars at the industrial landscapes of the harbour (Stop 5) or a song by Greatful Dead at the slightly hippieesk atmosphere of Ruhrkunstort (Stop 8).
Stefan Schneider, August 2022