SOMOS MAS: Aparición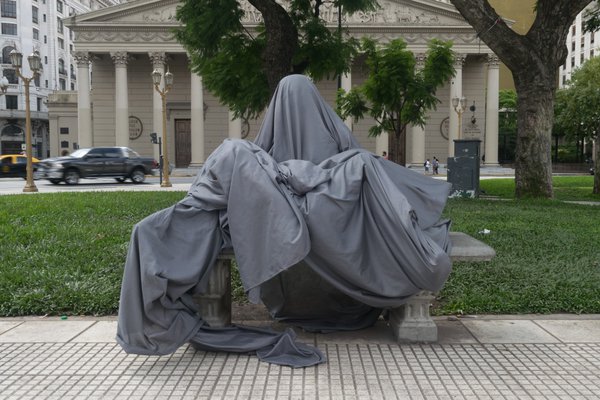 Regina José Galindo's performance series Aparición has also attracted worldwide attention. After she conceived the action in 2018 and performed it in Berlin, she encouraged other collectives and artists to follow her principle. In the following, the action was re-staged in Salamanca, Spain. Several women covered the curtains of their houses in different colors to deal with the dangerous situation of women in their own four walls exacerbated by the pandemic.
Sofía Smaldone and María Marcela Cortez both work as professors of fine arts and in the cultural sector of Argentina and together form the performance collective SOMOS MAS. They also took up the work, recalling the high number of femicides in Argentina and worldwide. In their selection of places where they performed veiled like Galindo, they were mainly historical places away from tourist sensations and places that are located throughout Argentina. Both report mixed reactions during their actions: from uncomfortable police questions, children wanting to touch the cloth, to people who simply walk by ignoring them.
Argentina is not just Buenos Aires and femicides are not just numbers.