Schools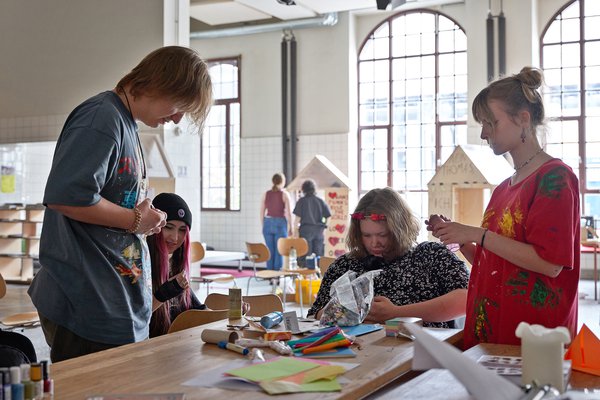 For school classes, we perform the object theatre play Im Garten der Potiniers / Au jardin des Potiniers and the play La posibilidad de la ternura / Die Möglichkeit von Zärtlichkeit during the weekday mornings. There are no additional costs for the accompanying offers.
For primary school classes from year 2 onwards, we recommend a workshop following a performance of Au jardin des Potiniers / In the Garden of the Potiniers, where the engagement with nature continues outdoors after the visit to the theatre.
From grade 9 onwards, we offer an accompanying theatre workshop for classes to prepare for or follow up on a performance of La posibilidad de la ternura / Die Möglichkeit von Zärtlichkeit, in which we creatively explore gender-specific socialisation, role models and biographical forms of theatre.
In preparation for the art education project TEENS IN THE HOUSE III – A Young Residency, we regularly organise weekend workshops for young people aged 16 and over. For schools, we offer artistic interventions and information stands in the school building to arouse young people's curiosity about the project.
We are happy to advise teachers on the entire programme of the Ruhrtriennale 2023 and organise workshops or talks with students or teachers to prepare for or follow up on their visit to the event.
Tickets for school classes
Subject to availability, Tickets for school classes and courses can be reserved until after the summer holidays (14 days before the performance at the latest). Classes and school courses of 10 or more receive tickets for € 5 per pupil and per accompinying person (max. two per class/course) for all events. Your purchased ticket entitles you to free use of all buses and local trains (2nd class) in the VRR for the outward and return journey to and from the venue.
When booking the tickets without a previous reservation tickets for school classes and courses need to be booked seven business days prior to the performance. Reservation and booking at jungetriennale@ruhrtriennale.de.